Company Introduction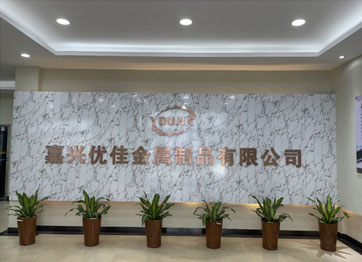 Create advanced manufacturing base in metal product industry
Jiaxing Youjia Metal Products Co., Ltd., subordinate to Zhejiang Jiaxin Silk Group(stock code : 002404),Over the years, Zhejiang Jiaxin Silk Corp., Ltd. has developed towards industries of clothing, dyeing and printing processing, hardware products, etc. and is founded in October, 1994. It is situated in the central area of the Yangtze River Delta - Zhejiang Jiaxin Silk Industrial Park, covering an area of 630 mu, It is only 300m away from exit of Shanghai-Hangzhou-Suzhou Expressway, with an hour's drive to Shanghai, Hangzhou, Ningbo, Suzhou and other major cities. with convenient means of transportation.

It possesses over 20,000 sq.m of standard workshop with 16 million US dollars of assets and more than 350 employees,Over a half of personnel have technical secondary school education or above.

Youjia is engaged in building an advanced manufacturing base in hardware industry. It manufactures and sells electric hardware, clothing hardware, buttons and buckles for cases and bags, Furniture hardware, and various groupware, most of which are exported to North America, west Europe and Japan. Youjia possesses not only more than 100 sets of automatic punching equipment, 4 welding lines and 2 coating lines but also mature technologies. Combining its advantages with practical management model, it advocates man-centered management ideal and makes a standardized managing system. Excellent hardware advantages, profound R&D capability, reliable manufacturing process control, outstanding service system and solid team spirit make Youjia products upgrade regularly and receive warm welcome home and abroad.

The development of enterprises needs internal efforts and external support from customers. Youjia is ready to create miracles and challenge the future along with its customers.
Management Concept
-- Innovation for development, Management for efficiency
Quality Principle
-- Quality as base, stable development
Service Tenet
-- Good faith uppermost, Customer most important
Company Culture
The success of an enterprise is greatly determined by its culture which should fit for itself. Any company without its own culture won't last long. A successful enterprise must have its own culture and its common concept. Good faith for being a man, good faith for doing one's career. We are always prepared for serving customers, providing first class quality and all round services.
The way is just under your feet. Let's see what you will choose ...